Enhance Your Writing Skills with Grammarly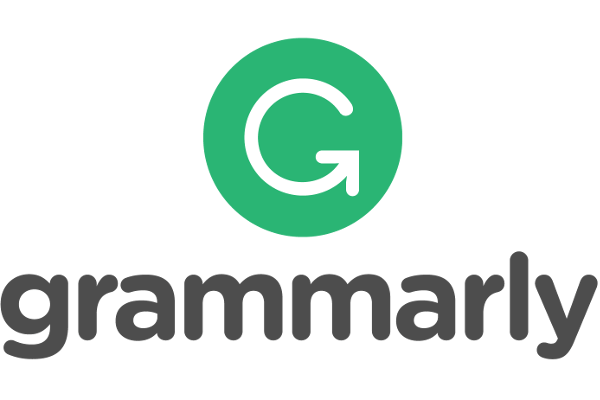 What Is Grammarly?
Grammarly is a popular grammar checker that was released in 2009. Over the years, it has evolved from a basic grammar checker into a plagiarism checker and advanced writing assistant powered by AI, unlike anything else on the market. It also enables writers to improve the readability of their works and rewrite sentences with a click. The Grammarly product is available via a suite of desktop and web apps and software plugins.
The company was co-founded by Ukrainian entrepreneurs Max Lytvyn, Alex Shevchenko and Dmytro Lider. Today, Grammarly's headquarters are in San Francisco.
Grammarly scans a piece of writing and identifies writing mistakes, errors and other issues using artificial intelligence.
Whether you're a student, a professional, or just someone who wants to write better, Grammarly can help you improve your writing skills and eliminate grammatical errors, punctuation mistakes, and spelling errors.
Grammarly is an online grammar and spell-checker that works seamlessly with any writing platform, be it Microsoft Word, Google Docs, or even social media sites like Facebook and Twitter. It scans your writing for errors and suggests corrections, providing you with detailed explanations on why certain corrections need to be made. The tool also provides feedback on clarity, concision, and tone of your writing, helping you to create more effective and engaging content.
The software uses advanced algorithms to identify common errors in writing, such as misplaced commas, incorrect verb tense, and subject-verb agreement. It also checks for common spelling errors and suggests synonyms for overused words. In addition, Grammarly offers suggestions on sentence structure, word choice, and style, making it a valuable tool for anyone who wants to improve their writing skills.
One of the most significant benefits of using Grammarly is that it can help you to avoid embarrassing mistakes in your writing. This can be particularly important for professionals who need to communicate effectively in their work, such as journalists, editors, and lawyers. With Grammarly, you can be confident that your writing is free of errors, making it easier for you to communicate your ideas clearly and effectively.
Who Is This Grammar Checker Good For?
Grammarly is useful for native English speakers and those who don't write in the English language that often. It also acts as another line of defense for professional writers. Its ideal audience includes:
Bloggers
Freelance writers
Content marketers
Copywriters
Authors
Journalists
Students
Academics, researchers and essayists
Content publishers
Small business owners
Anyone who writes in English often.
Grammarly provides English grammar-checking tools only. However, it includes settings specific to Canadian English, American English, British English, Australian English and more.
The basic version of Grammarly is free to use. The premium version of Grammarly costs $30 per month. You can $12 per month if you pay an annual fee of $144. The premium version includes more advanced tools like the plagiarism checker. You can also avail of a Grammarly quarterly discount, annual and a Grammarly lifetime discount.
Grammarly Premium monthly subscription costs $30 per month.
Grammarly Premium quarterly subscription costs $60
Grammarly Premium annual subscription costs $144.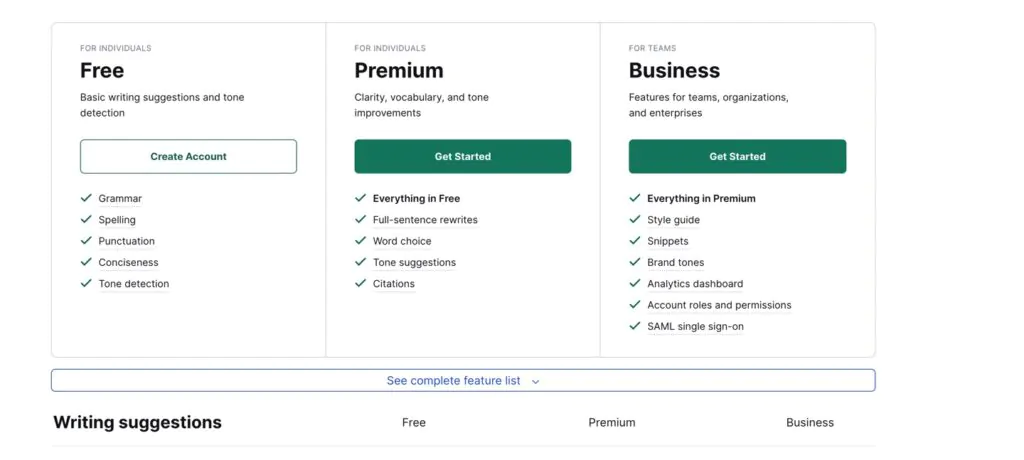 A single subscription covers all of Grammarly tools and reports. You could always try the free version of Grammarly before upgrading.
First, you can create an account using your Google or Facebook account or your best email address. It's OK to start with the free version. Now, you can use Grammarly in several different ways.
1. Correctness
Grammarly underlines grammar and spelling mistakes in red and proposes fixes. Expect to use this report the most. After using this grammar checker on several articles and book chapters, I discovered I have a bad habit of ending sentences with prepositions. I'm also guilty of using the occasional squinting modifier. Yes, these are finer grammar points, but knowing my bad habits helped me tune up my writing.
The built-in grammar checkers in Microsoft Word and Google Docs didn't provide me with these insights. I also particularly like the "Accept all suggestions" feature. Essentially, this enables me to review several writing suggestions in a document and accept or reject them all at once. If you use this time-saving feature, don't forget to review the suggestions and changes.
2. Clarity
See the proposed rewrite to the side; I can apply them with a click. Grammarly reviews a piece of writing for clumsy and awkward sentence structure. It then underlines issues in blue. It also scans for instances of the passive voice.
Using AI technology, Grammarly proposes rewrites and other fixes. Judge these recommendations based on your audience and style guide; not all are relevant. That said, I was impressed by many of these recommendations. Use this report after you've fixed grammar mistakes.
3. Engagement
Grammarly reviews a piece of writing for challenging or hard-to-understand terms and overused words. It highlights them in green. It also looks for clumsy sentences. Use this report to polish your writing by finding better synonyms.
4. Delivery
Grammarly reviews a piece of writing based on your preferred tone and audience. It underlines issues in purple. I didn't get as much value from this report for emails and other short-form works. However, it's a nice addition if you want to spend some extra time copyediting a piece before submission or publication.
5. Style
Grammarly reviews a piece of writing based on your company style guide. It highlights issues in grey. Use this report if you work with freelancers and have a house-style guide. Learn more about style guides.
6. Grammarly Plagiarism Detector
The plagiarism report is one of my favorite Grammarly tools. It's premium only. Grammarly scans a piece of writing, scans the web and highlights potentially plagiarised content with links. This tool appeals to college students and essayists concerned about citing too heavily from their sources without proper attribution. It's ideal for those writing academic content regularly. It helps review a peer's work and check an essay for accidental plagiarism.
The Grammarly plagiarism detector is also helpful if you've written an article and can't remember your sources. Writers can check if they've inadvertently copied text from research sources without citing or linking correctly.
You can also check if a freelancer is providing you with original content. I also sometimes use this detector to check if someone has plagiarised popular articles from this site so that I can issue DMCA takedown requests.
Grammarly Web App
You access the Grammarly web app via app.grammarly.com. Then, paste a piece of writing directly into the web app. It'll scan your writing and propose fixes. Alternatively, you can upload a rich text document into the web app and check it. You can download or copy and paste the results into your writing app.
Grammarly Desktop App
You can download a desktop app for Windows or Mac. These apps require internet access to use. The app works in the background and checks any piece of writing for issues and mistakes. The Grammarly icon appears when you're editing and writing. Click on it to scan a document in Microsoft Word for errors and other mistakes.
Grammarly excels thanks to its popular Chrome, Firefox, Safari and Microsoft Edge browser plugins. After you install the plugin, please log in to your account. Now, Grammarly automatically scans pieces of writing in your web browser.
You can use it like a pop-up to check emails in Gmail, your latest social media posts and more on the fly. Grammarly Chrome and other extensions help check emails, social media posts, and anywhere you write online. Learn more about how to add Grammarly to email.
Grammarly Microsoft Office Plugin
Grammarly offers an officially supported plugin for Microsoft Office. Once installed, you can check and fix an article, report or email directly inside Microsoft Word or Outlook.
Thanks to its proliferation of apps and plugins, Grammarly is easy to use wherever you write. It scans up to 100,000 characters in real-time and proposes fixes and suggestions. It offers possible solutions and explanations for potential mistakes. You can filter through suggestions based on their importance or score. Then, you can accept or reject requests with a click. Grammarly helped me identify the following:
Typos
Confused prepositions
Overuse of the passive voice
Wordy sentences
Incorrect comma usage
Repetitive words
Punctuation errors
Common writing and grammar mistakes like misplaced apostrophes
Spelling errors
Lengthy sentences
Broken grammar rules
As Grammarly provides context to each fix (based on its Handbook), it'll help you improve your writing skills rather than simply offering fixes.
Grammarly Free Vs Grammarly Premium Version
If you're on a budget, install the free browser extension and test it yourself. It's ideal for writers with a minimal budget for writing tools. The free version contains a basic grammar checker. It lacks an advanced grammar checker, a plagiarism detector and some vocabulary enhancement suggestions.
That said, it's still worth using. It underlines potential grammar mistakes in red and proposes fundamental rewrites and fixes. You can also switch between US, British, Canadian and Australian English. It should catch more errors than a basic grammar or spellchecker, and you can try it without spending money.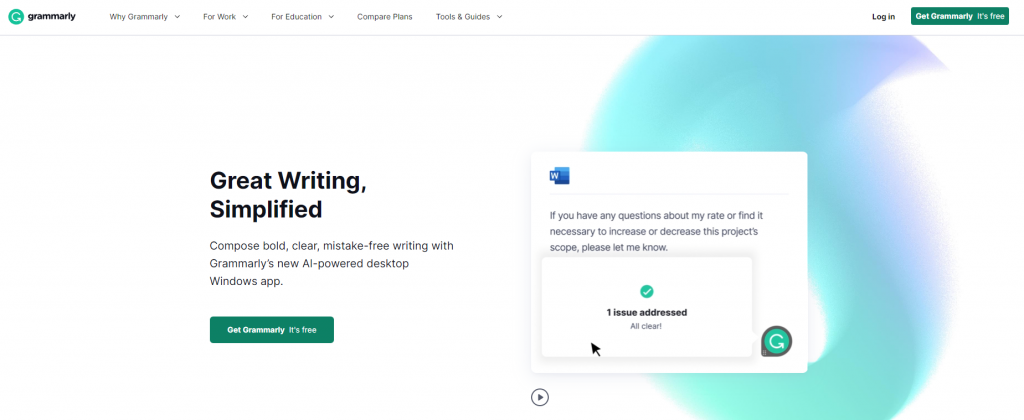 When you're ready to upgrade to the paid version, Grammarly Premium contains several additional checks and tools for those who regularly write and publish content online. It also provides additional writing insights and an ability to set writing goals. It also finds and fixes more mistakes than the free version. The best Grammarly premium tools include:
The plagiarism report
Overused words
Inappropriate tone
Readability scores and reports
An advanced writing assistant
You can upgrade to Grammarly Premium for a month and cancel when you're done. Or you could upgrade for the entire year if you use it regularly. Check out our Grammarly tips and tricks guide to get more value from your subscription.

Is Grammarly Premium Worth It?
For me, Grammarly Premium is worth it. I write and publish several dozen articles across several content websites each week. I also edit articles by other freelance writers for these sites with the help of a freelance editor.
It'd be impossible to edit and publish all of these articles without the help of a reliable premium grammar checker that can spot issues I usually miss. What's more, thanks to this tool, I've learnt a lot about the finer points of English grammar. I also use the plagiarism checker regularly when commissioning work by new freelance writers. Finally, I like that I can set up a house-style guide that my editor can use. Our guide compares Grammarly Free vs Grammarly Premium.
Conclusion
In conclusion, Grammarly is an essential tool for anyone who wants to write with confidence and improve their writing skills. It's easy to use and provides detailed feedback on your writing, making it an invaluable resource for students, professionals, and anyone who wants to communicate more effectively. If you're serious about improving your writing skills, then Grammarly is a must-have tool that you should definitely consider.