2023 Jackery Solar Generator Review [In-Depth & Unbiased]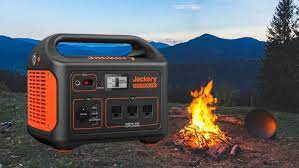 In the last few years, portable power stations and solar generators have exploded in popularity.
With Jackery being perhaps the most recognisable amongst the bunch of companies on offer.
These stations have a lot of practical uses, right through from camping to even powering a home during power outages.
But for us, we were most excited to see whether Jackery is a viable long term solution to providing power within a van conversion.
Below, I want to review Jackery products right through from their smallest Explorer 160, right up to their beasty Explorer 1500.
And ultimately decide whether Jackery is worth buying!
Let's get stuck in …
Jackery Solar Panels Review
I have to be honest here …
I was actually more blown away by Jackery's solar panels than I was the unit itself!
And I think that's simply because I really hadn't thought much about the panel before it arrived. I kind of saw it as a side product to the main unit that was kind of quirky to have, but maybe wasn't all that practical.
In reality, I think it's such an awesome bit of kit!
We have big bulky solar panels on our van that are permanently fixed down to the roof of our van, and they are great.
But from what I had heard about these portable / flexible panels, they weren't really up to much or really worth buying.
Well, the first thing you notice about the Jackery panels is how surprisingly compact they are. They are extremely well made, and fold down in a really satisfying way.
They are also really light, with the 100W version (that we reviewed) weighing less than 5kg.
Setting them up is crazy simple. There are 2 stands on the back that are held back by velcro, so all you do is unfold the unit, and then stand it on those facing ideally towards the sun. There is a cable attached to the back that you then plug into the Jackey unit.
And that's it!
There is a thing called an MPPT that is necessary for converting solar charge into usable battery storage, and in our van this is a bulky little box that has to be hard wired in.
With the Jackery MPPT, it's built into the power station itself, so you don't have to worry about my settings or anything like that.
Plus, the Solarpeak™ technology MPPT is custom designed and tweaked by Jackery themselves, which means it is as efficient as possible at charging the unit.
But honestly, what I was even more surprised about is that you can actually plug your smaller devices (like mobile phones) directly into the back of the unit.
How cool is that!?
Meaning, if you're going somewhere warm for a few days, and only have your phones to power, then you could actually get away with JUST having one of these solar panels!
Leave it standing outside your tent, and then plug your phones in the back and you're sorted.
They can withstand light rain (not heavy rain), so if the weather turns then you have chance to get them in.
In terms of how fast they charge the unit, it does depend on a number of variables, most namely:
How much sunlight there is
How large your Jackery unit is
If you purchase the 1500W solar generator, then they actually send you 4 panels. Which naturally will mean having more kit to set up, but does mean you can charge your unit from 0-80% in as little as 4 hours, which is impressive!
For most people, if you just have a Jackery 500 unit and 1 x 100W panel (the setup we had) that will be sufficient to keep the unit nicely topped up throughout the day even if you're charging multiple devices at a time.
Again, it does depend entirely upon how much power you are drawing, and how much sun there is.
Bottom line: Jackery's solar panels are compact, lightweight, really simple to use, and implement perfectly with the main unit. They provide a useful way to help keep your unit topped up and are well worth the money, even in comparison to hard wired solar panels you can buy.
If you buy a Jackery Solar Generator kit, then they typically send you 1 or more of the 100W variety as a part of your kit (see the table above for exact details).