Adobo: what is Filipino dish and why is it being celebrated by Google Doodle?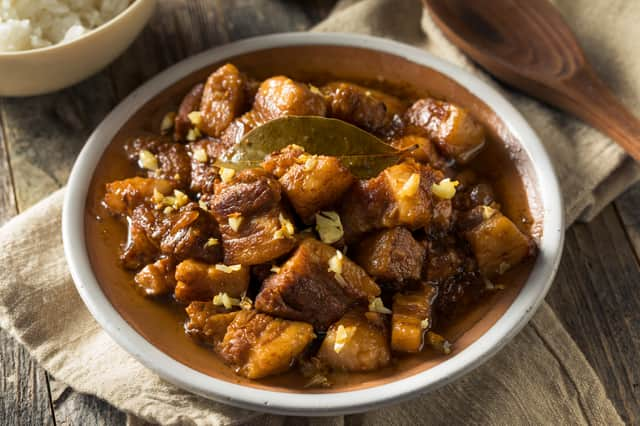 The date that the Google Doodle appears always holds significance for the subject in question, and today's Doodle is no different. The reason that Google has chosen 15 March to celebrate Filipino adobo is because in December 2006, the word adobo was added to the Oxford English Dictionary (OED), and on today's date in 2007 it was included on the word list of the OED quarterly update.
Filipino adobo is a hugely popular dish which originates from the Philippines and is sometimes considered to be the unofficial national dish of the country. While there are loads of different variations of adobo, they all share the same basic elements – meat, seafood or vegetables that have been braised into a delicious stew, usually with vinegar, soy sauce, garlic, bay leaves and black pepper.
Adobong puti, enjoyed by locals in Visayas, is considered by some to be the original indigenous style of Filipino adobo. This version of the meal uses exclusively vinegar and no soy sauce. Meanwhile in places like Southern Luzon, creamier adobo with coconut milk is more popular. Regional changes to the recipe generally depend on what ingredients are readily available in that area.
Once cooked, the adobo is usually served over a bed of rice, which we can see in the Google Doodle.
Talking about his thought process behind designing the Doodle, Irwin said: "For children of immigrants, our relationship with our parents' food is a complex one. On one hand, my mother's cooking made me feel like I was exactly where I was supposed to be. It felt special and safe and warm. But on the other hand, most kids just want to fit in. Growing up in the U.S., I didn't want my food to be special. I didn't want to feel different. I just wanted to be like everyone else.
"Now as an adult, I get to find all of these opportunities to be proud in ways childhood didn't let me feel proud. I can claim Filipino food as a part of my culture and celebrate the connection it creates between my mother's identity and my own.
"I ordered some southern-style chicken adobo from a local restaurant to stir up some memories while working on the art for this Doodle, and the first thing that hit me was the smell. It was so bright and nostalgic, and instantly filled my apartment with that familiar feeling: this is exactly how things are supposed to be. So I tried to capture that simple childhood joy of leaning in and savouring the kind of food that makes home feel like home. Kain nang mabuti!"