Aurora Australis lights up Victorian skies in rare display that delights dairy farmers and golfers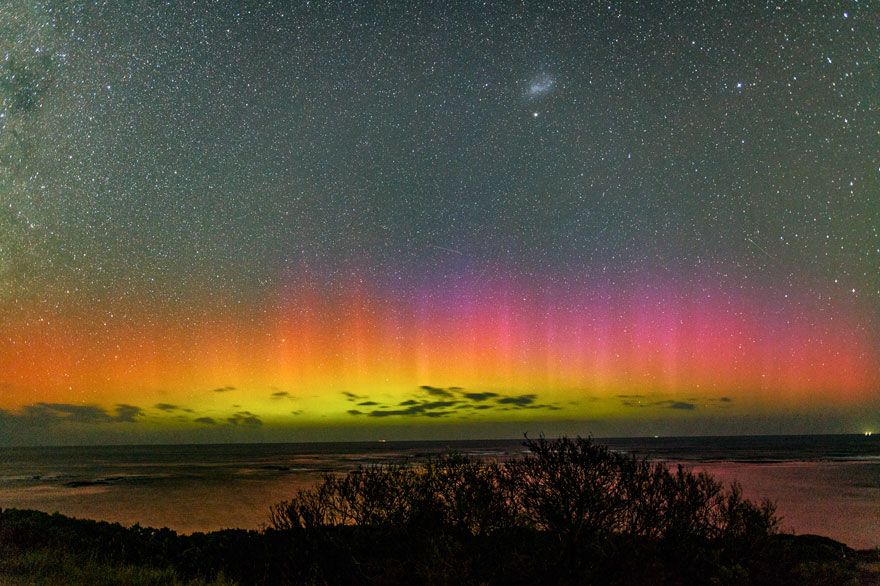 Napoleons resident Shane Laidlaw left home at about 5:00am and saw what looked like red tail lights driving through dull fog.
"The phone photos brought out the colours so much more," he said.
"I woke up my wife and she said it could be an aurora and went back in and woke up my son."
Uncommon in Victoria
The Bureau of Meteorology released an alert yesterday notifying of conditions conducive to visible auroras.
Astronomer and space historian Dave Reneke says auroras are caused by solar flares.
He said this one was particularly strong as colours were not commonly visible from Victoria.
Mr Reneke sayss the sun is entering an 11-year period called solar maximus where activity ramps up following a period of solar minimus.
"What we are seeing is an increased amount of solar flares," he said.
"Every now and then the sun will pump out a huge solar flare, which is a ball of energy that breaks away from the sun and washes over our planet within 12 to 24 hours.
How do I get 'the shot'?
The BOM monitors sun flares and is able to provide alerts sometimes days in advance for upcoming Auroras.
Securing the "Instagram-worthy" snap of the phenomenon isn't easy
Mr Reneke suggested going to the beach or an elevated area with a clear view of the horizon to catch the next Aurora.
Barb Wallace is the founder of Facebook group Aurora Hunters Victoria and has had an influx of member requests, which also has an alerts page.
The group has more than 31,000 members but Ms Wallace expects that number to grow significantly as Auroras become more frequent in the coming year.