Coursera: Unleashing the Power of Online Learning, Setting It Apart from Other Platforms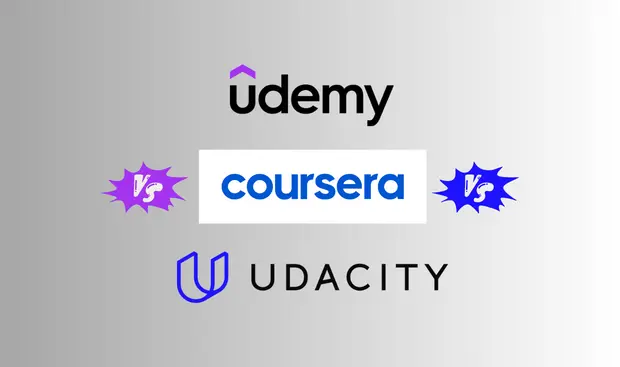 Coursera has established itself as a leading provider, revolutionizing education and making high-quality courses accessible to a global audience. In this blog post, we will explore why Coursera stands out as a superior course learning platform compared to others.
There are many different online learning platforms other than Coursera. Although this is true Coursera has a lot of recognition for being one of the best MOOCs available. If you are not in love with Coursera and prefer to look at other online course providers you can research Udacity, Udemy, Codecademy, edX, and DataCamp. These online learning platforms are also highly rated by industry professionals. They offer many different types of courses to improve your skills and help you succeed in your future career.
Which is better: Udemy vs. Coursera, and why?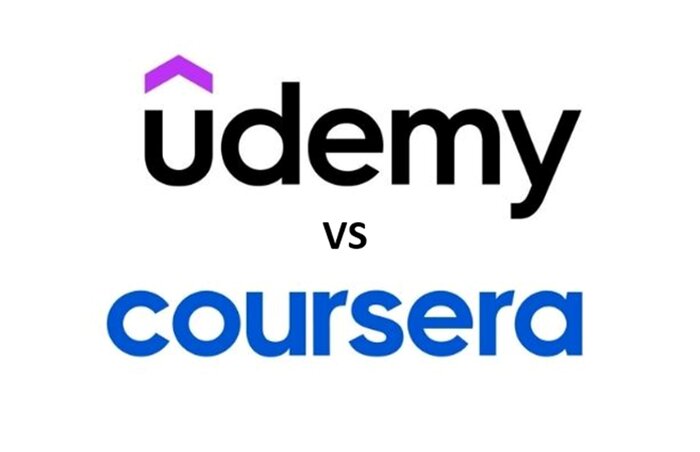 Coursera is better than Udemy in my opinion. When I recently became interested in online learning, I wondered if Udemy was better than Coursera since they are the two most popular options. At one point, I decided to take online courses on both platforms and compare them myself to know if I should stick to Coursera or Udemy.
Here are the facts about Udemy Vs. Coursera based on my experience. Coursera offers a more structured learning environment with most of its instructors working as active professors in top universities. You can also get direct university certificates of completion from Coursera. On Udemy, you do not need to be a professional to launch a course, basically, anybody can be an instructor.
Udemy has a larger collection of online courses for people interested in tech careers compared to Coursera. Just make sure you find a high-quality course with many positive ratings whether you are on Udemy or Coursera. Most online courses on Udemy are self-paced and do not require too much time commitment. I was able to complete two Python programming courses at my pace while holding on to my full-time job as a nurse.
When I was taking my Coursera specialization courses, things became a little more tricky. I had to stay up late just to meet up with assignment submissions and group projects which reminded me of my time in college. Of course, this gave me a strong feeling of academic responsibility and allowed me to improve my time management skills in no time.
Now, let me talk about the cost. On Udemy, you pay according to each course but on Coursera, you subscribe monthly to get access to the course. The value you get would depend on what you are after. When I wanted to take one or two online courses to learn a specific skill, I chose Udemy, but when my interest in other programming languages peaked, I paid for the Coursera subscription to get unlimited access to the online learning specialization. There is also Coursera Plus which gives you access to more than 90 percent of all courses.
So, now you know why Coursera might be better than Udemy for online learning. At the end of the day, whether you choose Udemy or Coursera depends on what you want. Since Coursera has many university-sponsored courses, the certificate of completion you get may offer more value in the job market. For Udemy, a prospective employer may be wary about giving you a job, especially if the course is from an unreliable author on the platform.
Which is Better, Skillshare or Coursera?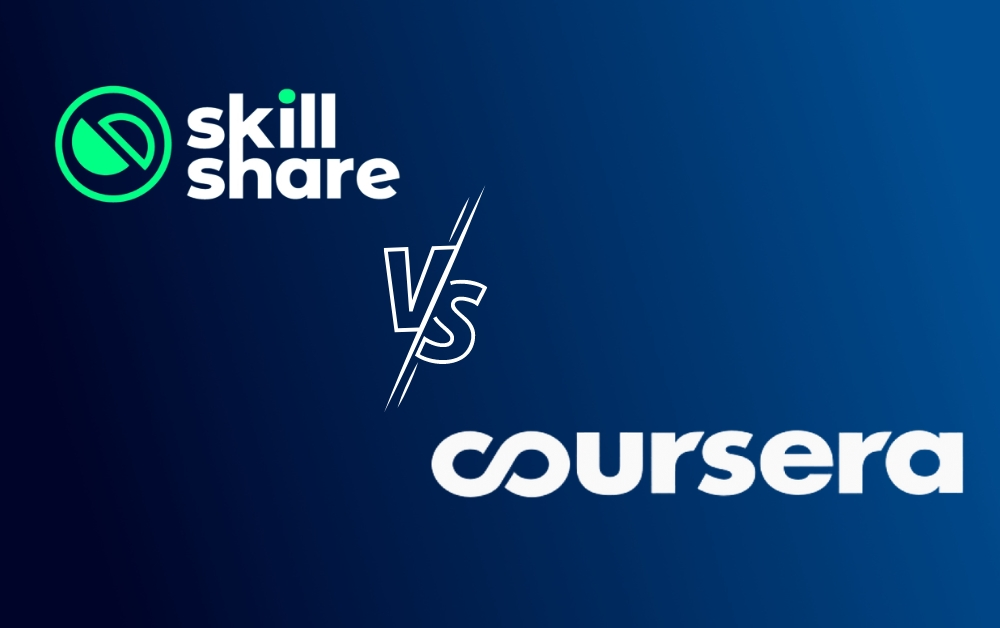 If cost is a barrier, Skillshare is a better online learning platform. Coursera is better than other online learning platforms when it comes to course structure requirements. Each online learning platform offers a variety of courses on a broad range of topics. Online learning platforms are a great alternative to traditional degree programs.
Each online learning platform offers a catalog of courses. Students can take a high-quality online course in a wide range of subjects such as:
Graphic design
Machine learning
Project management
Mobile development
Software development
Expert instructors teach each online course through video tutorials, video classes, and hands-on projects. Both online learning platforms offer unlimited access to individual courses through premium memberships or annual plans.
Skillshare Vs. Coursera
Skillshare is a more affordable online learning platform for its Skillshare premium membership plans. Its subscription model only costs students $32 monthly or $168 annually. Coursera offers premium courses on its online platform, but each individual course has a separate fee. This can become costly for students who want to take more than one online course.
Coursera has a very strict structure guide for its online courses. Coursera only allows expert instructors to teach students on their online learning platform. These instructors often come from universities or top-tier industries. They are well versed, have a unique teaching style, and provide valuable perspectives to their students.
Skillshare's educational platform does not offer certificates of completion, while Coursera's educational platform offers certificates of completion for certain types of courses. Previously, Skillshare awarded professional certificates for a range of topics, but after an update, these certificates became unavailable.
If you aren't interested in utilizing Skillshare or Coursera, other online course platforms provide high-quality courses on a range of topics. Some of the most popular alternative online course platforms are:
LinkedIn Learning
edX
Udemy
Udacity
LinkedIn Learning
LinkedIn Learning is a professional development platform that enables users to enroll in a variety of courses to learn creative skills, tech skills, and other in-demand skills that will enhance their employability. LinkedIn Learning is an affordable option due to its low monthly subscription cost.
edX
edX is a popular online course provider founded by Harvard University and the Massachusetts Institute of Technology. They offer high-quality online courses to students who may not be able to afford a traditional learning path or degree program. Top-tier universities and industry leaders curate the courses offered.
Udemy
Udemy is another alternative online course platform. It also offers a wide range of subjects, from graphic design to machine learning. These moderately priced courses are taught through video tutorials, video classes, and hands-on projects.
Udacity
Udacity offers updated career and market-driven courses to its online community. It also offers completion certificates for many of its courses for an additional fee. Udacity offers a 1-month trial for new students.
Which Is Better, DataCamp Or Coursera?
DataCamp is better for students who want to upskill their toolkit with a data science track, while Coursera provides a wide range of courses for many different skill tracks. Each online learning platform provides a wide range of benefits for complete beginners, advanced learners, and intermediate-level learners.
Coursera Vs. DataCamp
With DataCamp, you can access the first chapters of courses for free but not complete courses. Coursera, on the other hand, provides a wide range of free classes in multiple fields.
Coursera offers a wide variety of courses and career paths, such as degree programs, specializations, professional certificate programs, and online courses. DataCamp also provides two types of programs: Skill Tracks and Career Tracks. Career Tracks are more immersive than Skill Tracks.
Other differences between each online learning platform are:
Pacing. DataCamp is completely self-paced, which means it's perfect for busy students. Coursera has a different academic approach. You can choose to join either guided or self-paced courses.
Fields. DataCamp only focuses on data science skills, while Coursera offers many fields of study, including applied finance, computer science, digital marketing, and web design.
Partners. Coursera partnered with respected universities to provide its online courses, specializations, and online degrees. This makes Coursera's certificate of completion more reputable.
Skill assessment. DataCamp has an innovative assessment tool called DataCamp Signal. This AI-driven program measures your data science skills to help you decide which course is best for you. This is something that Coursera lacks.
Prices. The prices on both online platforms are similar, but DataCamp's premium plan is cheaper than Coursera Plus. DataCamp's subscription starts at $300 a year, whereas Coursera's annual subscription is $399. Coursera also offers financial aid if someone cannot pay for the plan.
Choosing the Right Online Platform
Both platforms are great for building your data science career. They offer state-of-the-art features and benefits. Take a look at the following list to evaluate:
If you're already a data scientist, but you want to learn a very industry-specific skill, DataCamp is for you. DataCamp's individual courses are designed for data science professionals and beginners with basic skill levels, but they're perfect for career changers.
If you want to obtain a particular certification or online degree, Coursera is a better option. This platform has partnered with leading institutions to provide recognizable certificates of completion.
DataCamp Vs. Coursera's Python Course
DataCamp and Coursera both offer Python courses for data scientists. They are beginner to intermediate-level programs that require no prior programming experience and are self-paced. DataCamp's program consists of 88 hours of video content, while Coursera's Python course is only 21 hours long.
DataCamp Vs. Coursera's Data Science Course
DataCamp offers all types of data science courses in Skills and Career Track programs. They are usually more specialized than the ones at Coursera. You will see courses like Data Science with R or Data Science with Python. Coursera offers more advanced data science programs.
Conclusion
Coursera's expansive course offerings, high-quality content, flexibility, interactive learning experience, industry-recognized certifications, and affordability collectively position it as a superior course learning platform. The platform's commitment to excellence and accessibility has made it a go-to choice for millions of learners worldwide, revolutionizing the way education is delivered and empowering individuals to acquire new skills, advance their careers, and pursue lifelong learning.