Leonardo DiCaprio, Martin Scorsese Talk Killers of the Flower Moon at CinemaCon, Reveals First Footage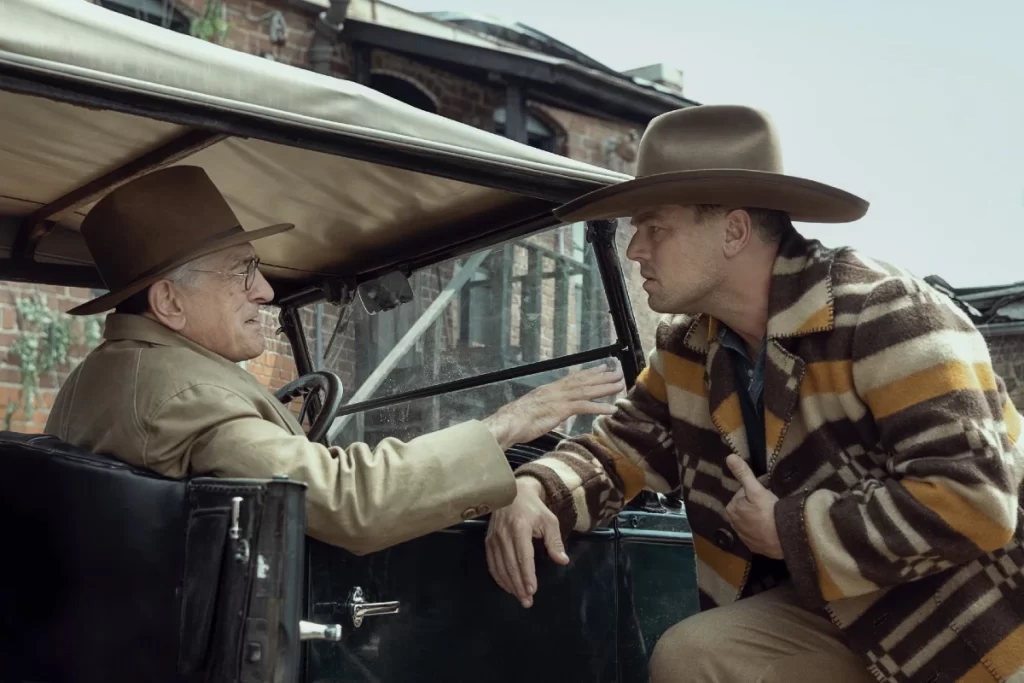 Martin Scorsese unveiled the first footage from his film Killers of the Flower Moon Thursday at CinemaCon, where his lead actor Leonardo DiCaprio and pop superstar Rihanna were among the surprise guests. Dark Western Killers is Scorsese's sixth movie with DiCaprio, and his tenth with Robert De Niro — but the first time the legendary director has ever brought his go-to A-listers together.
A true story of greed, love and murder set in the 1920s, when members of the newly oil-rich Osage Nation in Oklahoma began dying and disappearing in mysterious circumstances, the twisty crime drama hits theatres in October. Footage played at the movie industry summit in Las Vegas showed DiCaprio's Ernest Burkhart in a romantic relationship with a Native American woman (Lily Gladstone) while seemingly caught in the middle of brutal conflict between the Osage and encircling oil-hungry white capitalists.
De Niro plays William Hale, who is seen conspiring with Burkhart, while Jesse Plemons appears as lawman Tom White, sent from the newly formed Federal Bureau of Investigation (FBI) to investigate the murders. Originally, DiCaprio was set to play White, but after spending time with the Osage, he and Scorsese decided to make a 'big change' to the script, and center the movie less on the FBI and instead on Burkhart.
Scorsese said they were interested in exploring how "some of these people could have done what they did" to the Osage, and how they could rationalize violence — even against those they loved — by simply claiming: "It's civilization. One group comes in, and another goes out."
DiCaprio, hosting a Q&A with Scorsese, described the movie's events as a "forgotten part of our past."
Do right
The film was shot at the true, real-life locations where grisly events took place, and Scorsese said the script was reworked until the last day of shooting, as he spent time with the Osage people and was anxious to 'do right by them.'
"It was about immersing ourselves in that world," said the New Yorker, despite the "110-degree heat" and the unsettling presence on the surrounding prairies of coyotes and wild horses. The film is adapted from David Grann's acclaimed 2017 non-fiction book of the same name and will premiere at next month's Cannes film festival.
Killers will be Apple's highest profile big-screen release yet, as the tech giant launches the film in theatres — a splashy launch that it hopes can consequently drum up interest in its Apple TV+ streaming platform. "I'm really thrilled to have a wide theatrical release before it becomes available at home," said Scorsese, joking that small-screen viewing is only 'ok' by comparison.
Apple bought the film from Hollywood studio Paramount after the cost of the lavish, nearly three-and-a-half-hour production began to spiral to a reported $200 million (about Rs. 1,636 crore), and the two companies struck a deal to distribute the film to theatres.