Udacity.com: Building Careers and Transforming Lives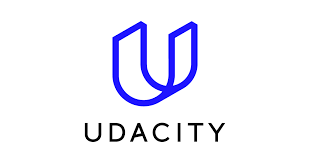 In recent years, there has been a significant shift in the way people learn. With the advent of the internet and the proliferation of mobile devices, online learning has become more accessible than ever before. Udacity.com is a platform that has taken advantage of this shift by providing online courses that are both comprehensive and affordable.
Founded in 2011 by Sebastian Thrun, David Stavens, and Mike Sokolsky, Udacity.com initially began as an experiment in online education. The founders aimed to provide quality education to anyone with an internet connection, regardless of their location or financial situation. Today, Udacity.com has grown into one of the most popular online learning platforms in the world, offering courses in a wide variety of fields, from computer science to business to art.
One of the key features of Udacity.com is its focus on providing courses that are designed to meet the needs of the modern workforce. Many of the courses on the platform are developed in collaboration with leading companies in various industries, ensuring that the content is relevant and up-to-date. This means that learners are able to gain skills that are in high demand in the job market, increasing their chances of finding employment.
Another important aspect of Udacity.com is its emphasis on providing courses that are interactive and engaging. The platform uses a variety of multimedia tools, including videos, quizzes, and interactive exercises, to keep learners engaged and motivated. Additionally, many of the courses are self-paced, allowing learners to study at their own speed and on their own schedule.
Udacity.com has also developed a unique approach to learning called the "Nanodegree." Nanodegrees are comprehensive programs that provide learners with a deep understanding of a particular field, along with the skills needed to succeed in that field. Each Nanodegree program consists of a series of courses and projects that are designed to build on each other, culminating in a final project that allows learners to apply their new skills in a real-world setting.
Pricing and Plans
Udacity.com offers a range of pricing and plans to suit the needs and budgets of different learners. Here are the different plans and pricing options available on Udacity.com:
Free courses: Udacity.com offers a number of courses that can be accessed for free. These courses provide a great way to sample the platform and get a taste of what Udacity.com has to offer.
Individual courses: Udacity.com also offers individual courses that can be purchased on a pay-as-you-go basis. The cost of individual courses varies depending on the subject matter, but most courses range from $399 to $499.
Nanodegree programs: Udacity.com's most popular offering is its Nanodegree programs. These are comprehensive programs that consist of a series of courses and projects designed to provide learners with a deep understanding of a particular subject. The cost of Nanodegree programs varies depending on the subject matter, but most Nanodegrees cost around $999.
Udacity for Enterprise: Udacity for Enterprise is designed for companies and organizations that want to provide their employees with training in specific areas. The cost of Udacity for Enterprise varies depending on the size of the organization and the number of employees who will be participating.
Scholarships: Udacity.com also offers scholarships to eligible learners who cannot afford the cost of courses or Nanodegree programs. Scholarships are awarded on a competitive basis, and the application process varies depending on the scholarship.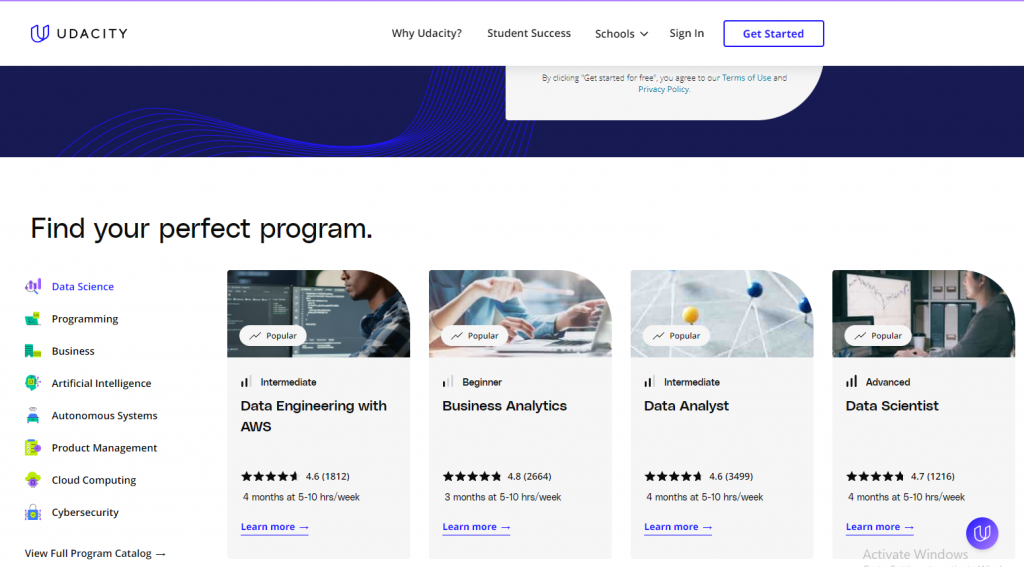 Pros and Cons of using Udacity.com
Pros:
Udacity develops its own content with tight collaborations with (industry-leading) partners such as Google, AWS (Amazon), Mercedes or Nvidia.
Anyone who enrolls in a Nanodegree will have access to Udacity's Career Services that include Resume & Cover Letter  Reviews and a LinkedIn and GitHub Review.
Udacity offers over 200 free courses. This is great place to start and get an idea of what to expect from this popular elearning community.
If you complete a Nanodegree (how its programs are named) with Udacity you'll earn a certificate. However, be aware that these aren't offered if you use Udacity with a free account. Be aware that Udacity is a private institution and their certificates aren't accredited.
Udacity has a really user-friendly interface, which not only makes its platform easy to move around and find what you are looking for. But it really is an enjoyable learning experience.
Cons:
As we'll see later on, Udacity isn't cheap. If you'd like to join one of its programs you'll need to have some budget.
The Udacity app for iOS and Android was removed from the app store in 2019. So if you are looking for on the go learning. Both Coursera and Skillshare apps allow you to download courses/classes.
It's true that Udacity offers a wide range of courses about computer science and business, however, there aren't any courses outside these niches – check out Udemy or Coursera for more variety.
The website and backend are available in other languages, but the course materials are mainly in English – some courses have subtitles in other languages.
Udacity is for anyone who is looking to gather knowledge and earn new skills in programming, business, data science and more. Its courses are designed to give you real employable skills that are based around real-world projects where you can learn on your own schedule and ask for help from mentors 24/7.
Nanodegree Programs & Courses
The learning programs that Udacity offers for individual learners are the Nanodegree program and the single paid course. Udacity's Nanodegree programs consist of a series of single paid courses. The single course typically ends in a project where you demonstrate the skills you have learnt and an average learner can complete a single course in one month, working 5-10 hours a week. Whereas the Nanodegree comprises 3 or 4 courses and will naturally take longer. Udacity is currently offering 70+ Nonodegree programs.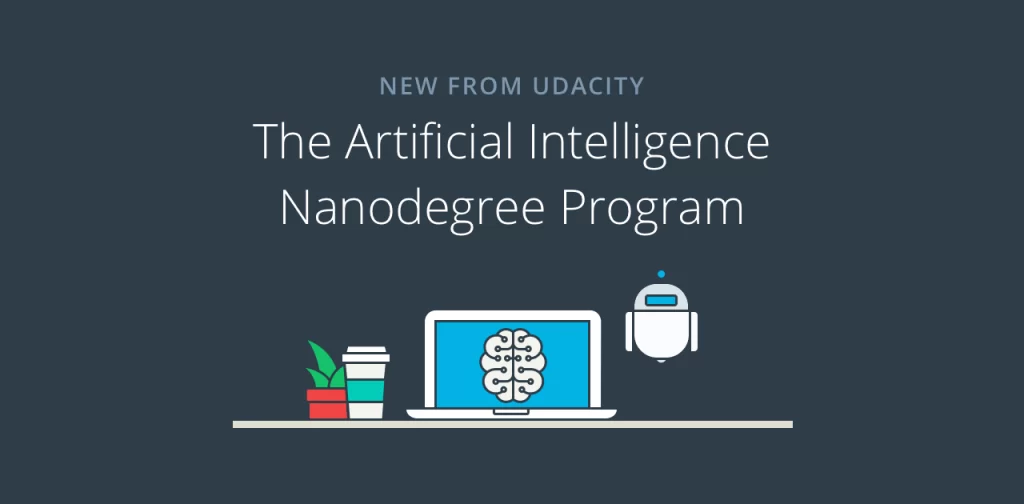 You will love Udacity's Nanodegrees for its;
High-quality content
Strong mentor support
Student discussion forum
Industry professional Instructors
Career advice services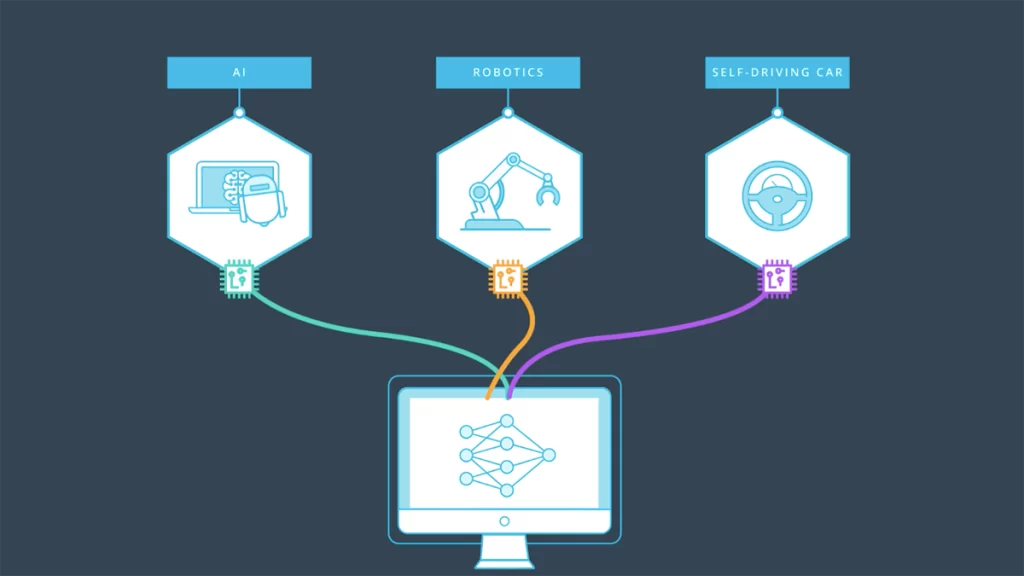 Udacity's Refund and Cancellation
Udacity's refund and cancellation policy, you can cancel within 2 days of enrollment to be eligible for a full refund on your first month's subscription. I know what you're thinking, 2 days, it really doesn't give you time to make a decision, but sadly that's the policy. For citizens or residents of the EU you have 14 days to claim a full refund. You are, however, entitled to cancel your automatic subscription at any time during the month so that you won't be charged for the following month.
Udacity's Free Courses
There are close to 200 courses that you can enjoy for free at Udacity. These free courses are designed to give you an introduction to some of the Nanodegree topics, and others focus on career related content like Interview preparation and refreshing your resume. The free courses will come with some limitations, for instance, you won't be able to get a completion certificate or be entitled to mentor support.
How To Open An Udacity Account?
Opening a Udacity account is very easy, follow these steps:
Visit Udacity.com and click on the top-left button 'Get Started'.
You can register just with your email or use Google or Facebook.
Add First Name, Last Name, Email Address and a Password.
Confirm your email account if needed.
What Programs can I find on Udacity?
Udacity's Programs are made up of 9 main subject areas that include Artificial Intelligence, Autonomous Systems, Business, Cloud Computing, Cybersecurity, Data Science, Product Management, Programming & Development and Career. Each of these 9 categories include Free Courses to Nanodegree Programs.
Conclusion
In conclusion, Udacity.com is a powerful tool for learners looking to gain new skills and advance their careers. While there are some drawbacks to using the platform, the comprehensive courses, flexibility, and interactive learning make it a great choice for anyone looking to learn new skills or enhance their existing ones.